Important Things to Do in Edinburgh
Important Things to Do in Edinburgh
Nov 14th, 2022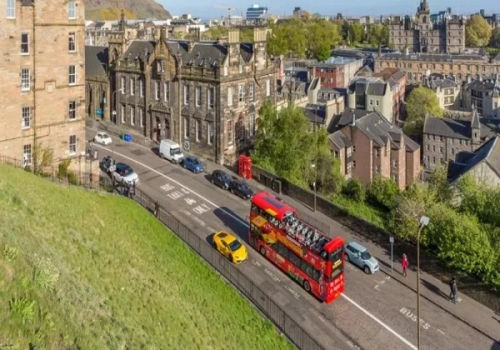 Edinburgh is one of Scotland's most popular destinations. It is home to the world-renowned Edinburgh Castle, Holyrood Palace and the Royal Mile.
It has a rich history and culture that can be seen in its medieval architecture, its flourishing arts scene, and its infamous festival season. The city owes much of its architectural heritage to Robert Adam's neoclassical designs. Here are some important things you should be doing when in Edinburgh.
Visit the Edinburgh Castle
Edinburgh Castle is a popular landmark and attracts tourists. The castle is visible from different parts of the city as it is located over tall rock. The area has been used as a defensive location for a long time.
The castle has been considered the heart of the city for centuries. Controlling Edinburgh castle meant ruling over the capital city.It was built in 1103 and it is more than 900 years old on a volcano but it has been extinct for millions of years so there is no risk of eruption.
The hill shape and hard rock make it perfect for creating a fortress. Here you can witness important historical figures that include Bonnie Prince Charlie and Mary Queen of Scots. Take a look into Scottish history by paying a visit to Edinburgh castle. Crown jewels of Scotland and the Stone of Destiny are displayed here. Witness One O'Clock Gun that is fired every day since 1861 except Sundays.
The old part of St. Margaret's Chapel was made in the 12th century. The castle treasures Crown Jewels of Scotland, the National War Museum of Scotland, the One O'Clock Gun, and the Stone of Destiny.
Loch Ness
A loch is a Scottish word for a sea inlet or lake. Loch Ness is a big lake. It is approximately 170 miles north of Edinburgh. Loss Ness was created by volcanic activity with a stretch of 22 miles i.e. 36 kilometers through the Great Glen.
The dark water lake is 230 meters deep. It is believed that Loch Ness has as much water as the lakes of Wales and England altogether.
Loch Ness Tours [Loch Ness Monster] allow you to discover a soothing environment and unparalleled natural beauty. Amidst the tranquil setting, you can explore Urquart Castle, the historical sight, and a medieval fortress. Take a look at Culloden to know about the 1746 great battle.
If you are in Scotland then you must visit Loch-Ness. The freshwater loch is a popular water body across the globe due to the fictional tale of the monster that lives within the dark waters.
During your Scotland tour, you should visit, sail upon and stroll around Loch Ness as much as you can. Enjoy the beauty of this area and there are plenty of things to do at Loch Ness.
Hop on Hop off Edinburgh Bus Tours
are the perfect way to discover the best of Edinburgh. Enjoy panoramic views of Edinburgh sitting comfortably on the open-top bus and board the bus and hop off as many times as you want.
The stops are strategically located so you can explore all the important attractions without discomfort.
Board the open-top bus and travel the complete route or hop off at any stop where you want. All the buses depart regularly. Multi-lingual and English commentary is available so you can know about the top sights.
Edinburgh treasures several art galleries and museums. Whether you are a first-time visitor or spend ample time in the Scottish capital, there is something for everyone.
Edinburgh has many cultural attractions ranging from art galleries, museums, and other places where you can see masterpieces. You can visit different attractions during the day and enjoy musical performances and theater at night. Hop-on Hop-off bus tours are the best way to explore the city.
Edinburgh Vaults
The Edinburgh Vaults tour takes you on the journey of 18th-century tunnels that were believed to be haunted. The South Bridge over the Vaults was planned to be the oldest resident of Edinburgh was no more before opening.
The coffin of the oldest resident was the first crossing and as a result, the vaults and bridge are believed to be hunted by spirits.Know about Edinburgh's Georgian past, the expansion of the city, and ancient engineering that is left behind in gloomy corners. Learn why the vaults were made and who used them.
All your queries will be answered through the historic Edinburgh Vaults tour where storytellers allow you to relive the history.
Away from bustling Edinburgh city, you discover a damp, dark world that is the same since the 18th century. Interestingly explore the preserved history. Today, the Vaults treasures tunnels, historic structures, nightclubs, tunnels, and bars. It is a popular landmark among ghost tour companies.
The spooky tours are a fun, adventurous, and frightening way to explore Edinburgh. Learn about the mysterious past of the city and legendary ghosts.
Scottish Highlands
Scotland is a land of beauty and the Scottish Highlands treasures all charm that you have ever imagined. Dramatic landscapes, unique culture, welcoming people, and fascinating history are all you get in Scottish Highlands.
On your Edinburgh tour head north for amazing holidays in Highlands. This vast area is lively and boasts the best of Scotland.
On your tour to Edinburgh when you want to explore the outskirts of a city then you can choose Scottish Highlands Tours from Edinburgh and visit the popular destination.
There is a lot to see here ranging from lakes to animals to villages and mountains. Spend your time in the Highlands and feel the vibes as never before.
Other Attractions
There are many attractions including Loch Ness and Urquhart Castle that are located over 20 miles southwest of Inverness. We do not guarantee sighting monsters at Loch Ness but bet that this area will not disappoint you.
Get the opportunity to witness flora and fauna in this area. There are many other attractions to visit in the Scottish highlands including Isle of Skye, Ben Nevis, Eilean Donan Castle, Glencoe, Cairngorms National Park, Luskentyre Beach, Loch Lomond & the Trossachs National Park, Glenfinnan Viaduct and Duncansby Head.